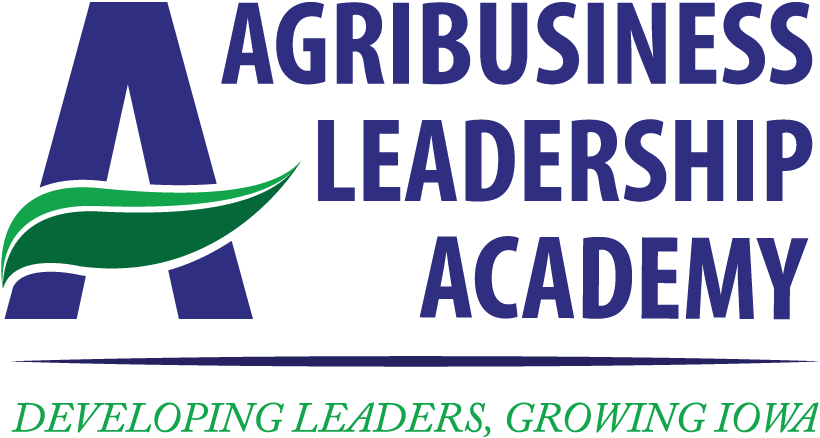 Which members of your business are ready to lead your organization into the future?
Asking questions about the future, and preparing for the future of your business, is always a wise strategy and use of resources. The most efficient way to build the future of your organization is to develop your current employees into leaders.
Integrity, honesty, focus, humility, passion, and the ability to inspire. These are the traits of great leaders. The future of your business depends on a ready supply of leadership within your organization. And the Iowa Agribusiness Leadership Academy provides you the opportunity to make that future a reality.
The agribusiness industry needs leaders.
The Agribusiness Leadership Academy was created to meet this critical need of agribusinesses in Iowa. In fact, it was included as a part of the Grow Iowa's Future campaign and exists as a result of those efforts and the generous donations of others within agribusiness who care about the future of the industry.
This extensive, 18-month program is built to allow you to develop your key employees into leaders so your business can thrive for generations to come. A combination of intensive two-day sessions, on the job application of learning, peer interaction, and a mentorship program all combine to produce leaders who are ready to lead the industry for years to come.
Don't miss out on this opportunity to invest in the future of your business and your success.
What is the Iowa Agribusiness Leadership Academy?
The Academy is a six session, 18-month program focused on growing the leaders the industry needs today.
Program Synopsis
Session 1 - Leading Self
Session 2 - Leading with Communication
Session 3 - Leading with Business Acumen
Session 4 - Leading through Advocacy
Session 5 - Leading with Results
Session 6 - Leadership in Action
For a more detailed view of the Academy sessions, download the PDF brochure.
Who Should Apply
How to Identify Academy Candidates
Managers/employees with at least five years of experience
Some supervisory responsibilities within the company
Takes initiative and shows humility
Ability to listen as well as they speak
Candidates with these four core traits are the most ready to benefit their business once they have completed the Iowa Agribusiness Leadership Academy.
Return on Your Investment
Employers will gain a Leadership Academy graduate equipped with:
Leadership – an accurate definition of a true leader
Business Acumen – ability to navigate business issues, ethics, key financial concepts and documents, and the impacts of marginal gains and losses
Communication Skills – the importance of communicating well and appropriately with others in the organization, how to lead with listening, and a solid understanding of the current workforce
Advocate Training – how the legislative process actually works, including the role of associations, and the importance of building relationships with government agencies, regulatory officials, and elected officials
Relationship Skills – an expanded network of business resources and connections within the agribusiness industry
My employee gained a better understanding of how the industry and government works, and developed a new peer network. Plus, their mentor allowed them the opportunity to interact with someone who has been a key part of the ag industry. This has been a great opportunity for our business.

- Troy Upah,  CEO, Ag Partners